21st March, at Secutech Expo in Taipei, Uniview IP Camera standed out from 22 cameras, wining the Secutech Excellence Awards 2014. The camera in competition is Uniview's new generation Full HD IP Box Camera IPC542E-DH-IN. Not only does it have an excellent imaging ability in star light condition, but also great WDR ability. It enables the camera to produce crystal clear image with true color in complicated light conditions even in extreme low light condition.
Starlight camera, as the name indicates, can produce clear colored image even in star light condition and without any supplementary lighting. As the definition of camera improves, the sensor area corresponds to single pixel reduces, making low light imaging, especially low light color imaging, more and more difficulty. To conquer the problem involves various technical areas relates to IP Camera - machinery, optics, network and harsh environment adaption. Correspondingly, Uniview started technology research project especially for IP Camera component, containing 69 big projects and 206 small projects. Those projects harvested advanced technology in electromechanical, ISP imaging, industrial application, manufacturing and testing.


2MP Starlight Camera: Crystal Clear Image Without Any Elementary Light
In the latest 2 years, standard definition camera and 1.3MP starlight camera are getting more and more popular. Uniview released 2MP Starlight IPC in advance. With years of accumulation in ISP, the Starlight IP Camera fully takes the advantage of high definition. Firstly, the valid definition of image is tuned in various lighting environment, especially in low light condition. This IP Camera way outperforms others in similar solutions. Secondly, the WDR ability is adjusted in strong light contrast environment, for example road. And last, this IP Camera inherits Uniview products' unique encoding and networking ability, and high quality structure.
22 products in the final, Uniview competing Sony
After first round selection, the final welcomed 22 products. They are: BOSCH、SONY、HONEYWELL、PELCO、UNIVIEW、HIKVISION、DAHUA、ZNV、TVT、VIVOTEK、FINE、FLEXWATCH、HI SHARP、HQL、HUNT、LILIN、NEXCOM、RONIX、SHANY. After fierce competition, rigorous test and open vote, 9 products were rewarded Secutech Excellence Awards 2014.
Uniview camera produced great quality image in the live testing, staying way ahead in vote counts. Many international customers were surprised by the high quality product and advanced technology. Interestingly, because Sony was near Univew during the test, some customers even misunderstood that Uniview's outstanding IP Camera is OEM from Sony.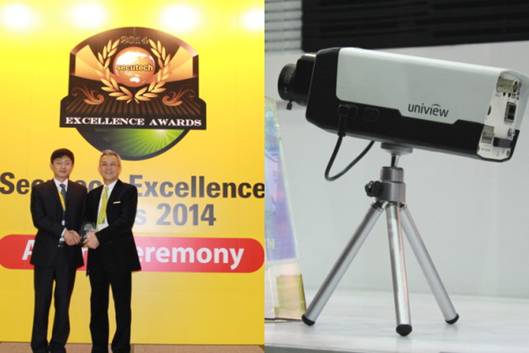 Uniview IP Camera won Secutech Excellence Awards 2014
Unique live professional PK, three rounds grading for the win
Secutech is the only live professional product testing and evaluating activity around the world. Together with it is the Global Digital Surveillance Forum (GDSF). Secutech simulates the various application environments to test the imaging ability of camera in laboratory, so called "performance experiment". The test is rigorous with complicated and harsh environment. Together with open comparing between products, it reveals the real quality of each product.
The ranking process involves three round grading: first, technical consultant from A&S magazine evaluate and grade the products from all aspects. This grade weights 30%. Then during the Expo, Secutech Award professional jury mark based on real-time performance in the test. This grade weights 60%. At last, the international customers invited in the Expo vote for the winner. This grade weights 10%.
This test evaluates camera in extreme low light condition, WDR condition and fast moving object shooting, beside regular image definition and color-reproduction. Only excellent products with comprehensive techniques can pass all tests, producing clear image in various lighting conditions and surveillance scenarios.
Market appreciates high quality: 450 Million sales in 2013
According to the statistics from IHS/IMS Research, Uniview IP Camera earned the third market share in Chinese market. The sales volume in 2013 continued growing rapidly, reaching 83% growth and 450 million in total sales. It contributed significantly to Univew's 1.58 billion sales in whole year. Quality is the flesh and innovation is the soul. Middle-high end market appreciates and rewards Uniview for its high quality products.
"Unview is really glad for wining Secutech." Vice President and R&D President of Uniview, Changkang Liu said, "From gaining German iF Product Design Award, wining GDSF test, to first gaining UL2802 Certificate, our IP Camera made professionals in the industry understood that Uniview is professional in not only networking, storage, solution, but also front-end devices. It also helped Uniview successfully built the high quality brand image. It is a success to Chinese Manufacturing."
Till now, Uniview completed more than 500 front end IP device, including box camera, bullet camera, fixed dome, traffic camera and the whole PTZ camera series.