In August 26, 2014, Uniview completed the "ALS Ice Bucket Challenge" bynetwork PTZ dome camera. Uniview CEO Zhang Pengguo was called out to take part in the ice bucket challenge by Liu Yang, who is the chief reporter of "Security Market News". Then Mr. Zhangcalled out Axis, Bosch and Sony which are three international leaders in CCTV industry.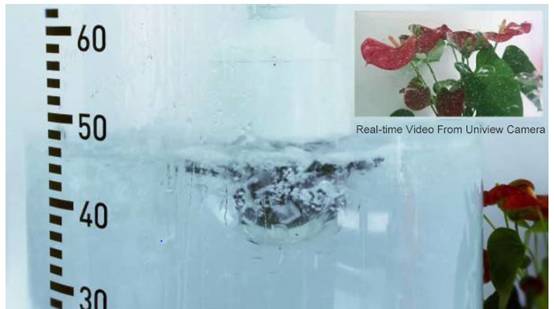 Uniview's camera completed ice bucket challenge with power on
See the video
The first camera completed soaking underice water with power on
For camera, ice water could be understood as extreme weather (thunder shower and even hail weather in summer), rapid temperature change would suddenly generatestrong pressure difference to camera. And it would increasethe risk of water infiltrating into the camera.
Uniview's cameras have IP67 protection ( dustproof and waterproof, 7 means a short-term soaking in one meter deep water and can still work well ) and its working environment can range from -40 ℃ to 70 ℃. The network PTZ dome camera in Uniview's Experience Center has already soaked under 1.2 meters deep water for more than one year, still working properly. Now, it is the first camera completed soaking under ice water with power on.
Long-term concern about ALS patients
The full name of ice bucket challenge is "ALS ice bucket challenge competition", which requires the participants release their ice bucket challenge video. After that, participants can invite others to take part in this activity. The invitee should take the challenge within 24 hours or donate to American ALS association for fighting against ALS.
Many famous people released the video of participating the ice bucket challenge. It not only awakens people's attention to the disease, but also promotes the development of the global charitable donation. But in the meanwhile,this activity is questioned and criticized."This activity is a 'cheap show'", some people said,"It not only a waste of water, but also thepersonal use of public supplies. People should pay more attention onthe disease itself." At the same time,the patients come up with the idea that they need long-term concern rather than the revelry of audiences.
In China,the enthusiasm of donation raised by the ice bucket challenge spreads rapidly. More and more people have participated in the activities and promised to donate to ALS or do what they can to deliver love.
Long-term commitment: supporting a Chinese ALS family
Amyotrophic Lateral Sclerosis (abbreviation: ALS), clinical manifestations that motor neurocyte in the brain and spinal cord gradually degenerate. ALS as patients with osteogenesis imperfect, their bones congenital fragility. Frequent fractures caused dwarfish stature and action barrier, and many people need frequent surgery and long-term medication regularly in order to sustain life. According to the official speculated, there are more than 1,000,000 ALS patients in China.
Taking into account the patients' actual needs, Uniview Volunteers Association determined to give the ALS patient Qiu Xia who live in Shandong Province a long-term help. Uniview would buy 1,000 pounds of wheat (about 475 kg of flour) from Qiu Xia's family with the highest market price every year, and the funds would directly remit into Qiu Xia's account.
Huang Rui has provided Qiu Xia with financial aid about five years. "Self-sufficiency is the best way for public service," he said, "Qiu Xia's family not only improved their life quality by labor, but also made others happy. Now Uniview become my fellow. I'm very pleased that there are more and more people concerning about ALS patients' life."
This donation would be in charged by Uniview Volunteers Association. Every major donors would receive some wheat from Qiu Xia's family. In July,2014, the Associationorganized the first charity bazaar, and donate to poor children. As of end of August, 2014, Uniview Volunteers Association has 147 members. Univiewers aretrying their best to help the people who need help, doingevery little thingin their daily life.