Description:
Walmart de México y Centroamérica is the Walmart's largest division outside the U.S., consists of 2,653 stores around the country, including 287 Walmart Supercenter stores and 165 Sam's Club stores. Walmart de México y Centroamérica is the biggest retailer in Latin America. Walmart always puts customers first, predicts their wishes and needs, and exceeds their expectations. Therefore, when processing service data and managing orders, every detail matters. That's why they choose Uniview, because Uniview has mature experience in Cyber security of CCTV solution.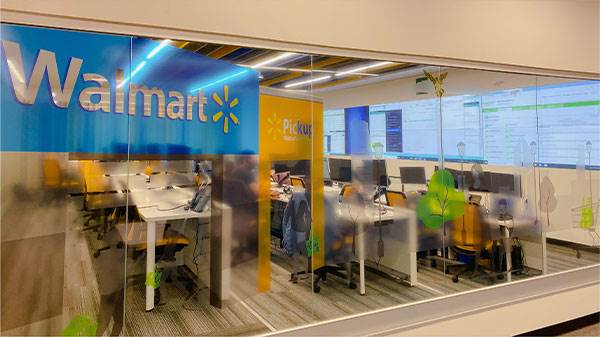 Solution:
Walmart Supercenter implies strict control over their sales service data and order management. This solution adopts 25 pieces of 55" LCD Splicing Display Units to video wall combination. This MW-A55-B1 LCD Splicing Display Unit has high reliability integration design that supports special splicing compensation, screen to prevent cauterizing, image flip, white balance adjustment. MW-A55-B1 LCD Splicing Display Unit supports 24 hours continuous work and runs stably. Besides, Uniview also has 0.8mm bezel LCD display, which can offer the ultimate visual experience.
This solution also uses 4 DC5506-E High Definition Video Decoders that can provide 6 HDMI output interfaces and one Video Wall Controller DMC8000-5U. The HD Video Decoder with the Resolution Real-time Total Adaptation technology, can support multiple TV walls with different resolutions, dividing all output channels into four groups of different TV walls, and each TV wall can customize different output resolutions. This decoder has the "Picture in Picture" function that is exactly what Walmart Supercenter need for their management. There is no boundary restriction on the area of the screen display. Through the unique video processing algorithm, the picture quality is guaranteed not to be lost in the zooming process.
The UNV supermarket monitoring program not only process service data and manage all of the orders, but also provide product analysis and improve overall quality of supermarket service.