The challenge: giving travelers visibility to fast-changing service information
Aussie Look (trading as OZLOOK) based in Melbourne and founded in 2012, aims to provide premium communication products and services for local residents and international travelers as strategic partner with Telstra. In recent few years, in order to cope with the fast pace of airport and offer better customer experience, OZLOOK has already successfully deployed quite a few big digital signage LED screens including indoor and outdoor ones across Melbourne airport.
As open borders policy released recently, lots of tourists, international students and workers will flood Melbourne and overwhelm OZLOOK, based on current digital signage, it may not be enough for handling and serving such huge people flow. In order to cope with the upcoming international traveling boom, OZLOOK planned to open a flagship welcome center with latest LED technology. Uniview is selected as the solution provider for its outstanding quality and suitable product features. In regard to display products, Uniview provides premium fine pixel product, top brand LED lamp, controlling system, power and other components.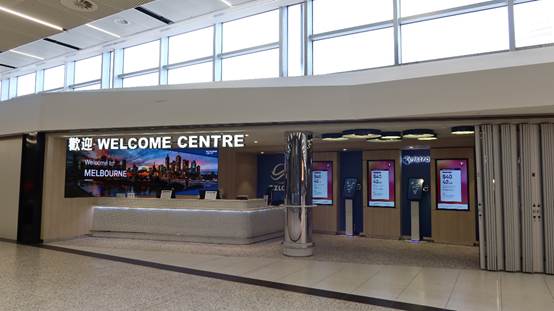 Latest generation of LED screens at a glance
As one of the busiest airport in the country, tons of people go in and out passing by the Welcome Center on a daily basis. In order for passengers and visitors to track down service information quicker, the service center originally located in the center of the airport was being planned to renovate and upgrade so that it can help passengers to allocate airport services information or commercials in a timely fashion. As a global provider of professional surveillance and display products and solutions, Uniview in partnered with OZLOOK designed and realized the entire upgradation. In the customized solution plan, to attract more tourists to pay attention to the service information and advertisements that the center offers and create a more immersive visual experience, several high definition displays LED screens will be added. The solution included the P1.6 LED module with 16:9 aspect ratio to play image and video clearly and vividly in 4K resolution, the screen could be perfectly spliced without gaps at the nook.
OZLOOK also wants to know what kind of advertising content can really attract customers. These information could help them to determine which kind of advertisements are worthy to invest, so that it can maximize the benefits. Keeping this request in mind, Uniview's choice for products includes 360 degree panoramic fisheye cameras with heat-map function to sense the aggregation of customers. The more travelers gather, the more interested they are in the advertisement. Their preference could be presented clearly by image captured from camera. Gathered crowd information in video forms provide OZLOOK a great sense of the most customer attractive content to maximize the effectiveness of advertisement.
A 24/7, full-color wide range view of LED across the station
Based on preferences for advertising, OZLOOK wants to achieve nonstop ads rotation, 24 hours a day, 7 days a week. Such heavy workload for the displays would require the highest durability. As one of the busiest airport in the continent, it would be such inconvenience and liability if the product deployed to the center keep require repairs and is high maintanicence. Hence, durability and low maintenance became essential to consider when it comes to product selection. The top Brand LED lamp, power supply and control system have a capacity of enduring more than 10,000 hours. Through 680 strict tests, the reliability of UNV LED products are well certified.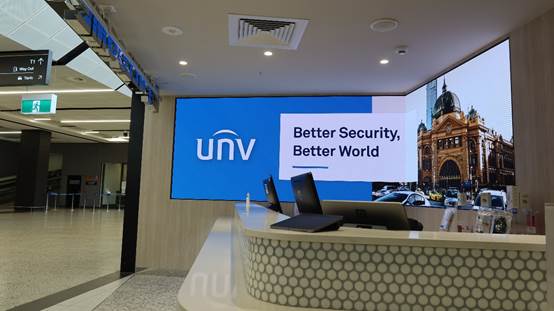 Reliable and easy maintenance is essential
Display equipment at the airport needs to fully consider its maintenance needs. In general, the operating hours of the airport are from 7:00-22:00. Once the equipment fails, it needs to be repaired as soon as possible. Since the airport is a large public transport facility, it is unimaginable to shut down the airport for maintenance needs. OZLOOK looks for products with high quality and easy to maintain.
UNV's products are based on ultra-light and ultra-thin materials, which will be easy for later maintenance. Even in urgent accidents, the front maintenance mode could save much time when repairing. This operating mode are highly recognized by customers and effectively meet their needs.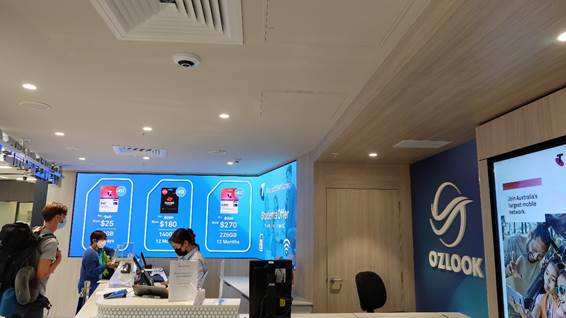 Uniview helps clients upgrade the flagship welcome center which attracts more tourists and digitally analyze end-customer's preference to optimize their operation strategy constantly. Uniview applies both display screens and surveillance products for clients and devote to provide professional integrated solutions to global customers.