PT Bank Rakyat Indonesia (Persero) Tbk (People's Bank of Indonesia, commonly known as BRI or Bank BRI) is one of the largest banks in Indonesia and the earliest in Indonesia, dating back to 1895. It specializes in small scale and microfinance style which borrow from and lend to its approximately 30 million retail clients through its over 4,000 branches, units and rural service stations. It also has a relatively small but growing corporate business. As of 2010, it was Indonesia's second-largest bank by assets.
With the development of the economy, the ATM is getting more universal. To meet the large demand of customers and provide more convenient services, BRI Bank has set many ATMs in Indonesia. At the same time, it becomes important to protect ATMs and ensure the safety of customers, especially at night.
With an eye on ATM security, BRI should monitor and protect its ATMs with high technology, rather than using traditional technology. Equipped with security product solutions, Uniview offers IPC and NVR at more than 4,000 ATM sites. One camera with one NVR was installed at each site, including 750 mini PTZs and more than 3,000 Prime cameras with one slot NVR.
With intelligent features such as body detection and intelligent intrusion prevention, the 5MP WDR Starlight Infrared Network Indoor Mini PTZ Camera has become the best solution for 24/7 ATM protection and monitoring. Additional features, such as automatic backup, greatly improve productivity. With SDK and API, it also can be greatly integrated with BRI's monitoring system.
• Starlight illumination • 120Db WDR
• PoE power supply supported
• Smart functtions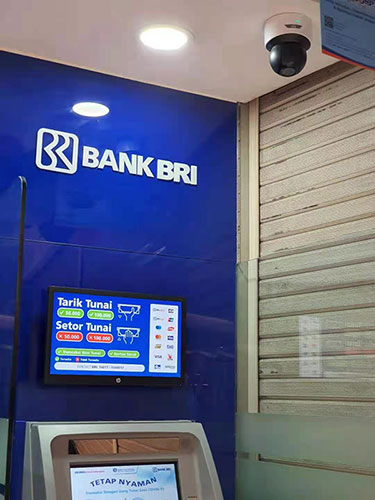 Uniview is committed to providing high-quality products, cutting-edge technology and professional service to customers worldwide. During the two years of friendly cooperation with BRI Bank, Uniview's products run very steadily and we are always to help if there are any problems.