Continuously investing in product development and innovation, Uniview is excited to deliver its latest intelligent products and technologies at IFSEC International 2018 in London, including Ultra 265, 4K, 5MP Series, NVR, all-in-one VMS Unicorn and complete solutions. More importantly, Uniview released the new product slogan "More Reliable, More Efficient" and three new product series – Easy, Prime and Pro Series.
More Reliable, More Efficient
Uniview insists on improving the quality of products, brings customers a reliable and secured life. At IFSEC, Uniview pride themselves on providing high quality cameras to achieve high endurance under extreme external conditions. The vandal resistant IP cameras are IK10 and can be exposed to high impacts of vandalism. Bullet cameras impressed users with its wide range of features, versatile software and excellent video performance, especially in low light. The IP67 rating makes it perfect for all-weather surveillance. NVR shells are flame resistant, making it ideal to prevent damages on data.
Uniview provides various smart functions to increase business intelligence and efficiency. Taking a few as examples. In UNV retail solution, the heat mapping function enables the analysis of high-traffic and long-stay zone. Users can make operational decisions based on the locations of the highest and lowest traffic areas within their store. People counting is ideal for taking headcounts in various environments, including retail, banks, museums and airports. It provides data analysis, allowing users to gain insight into the numbers of visitors per day. Expect that, Uniview embedded multiple smart functions in camera and NVR, such as face detection, intrusion detection, scene change detection, line crossing detection etc. Meanwhile, Uniview provides Ultra 265 deep compression technology which greatly saves the bandwidth and storage costs. It perfectly solved the problem of high costs that users would usually face when they are upgrading the old surveillance system to a higher resolution.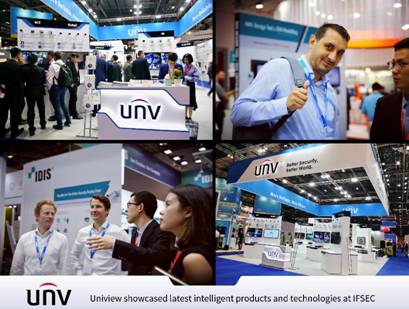 EASY/ PRIME/ PRO Series of Network Camera & NVR
At IFSEC, Uniview launched new products series named EASY, PRIME and PRO which are suitable for customers from different industries. The EASY series products are popular choices for retail applications. They include L series IP cameras, B series NVRs, Ultra 265 PoE kit and Navigator PTZ dome cameras. EASY series are featured with amazing properties. Various camera models such as bullet, dome, turret and PTZ dome cameras are designed for different scenarios to implement best performance. They are also cost-effective and portable for family and shops application.
PRIME series cameras and NVRs are standard and enhanced products which featured smart functions. The exclusive Ultra 265 technology of Uniview also enriched their performance. Varied main stream resolutions such as 2/4/5/8 MP can present different levels of image quality. Meanwhile, they are widely utilized in commercial building, park, and small project application to effectively guarantee security.
PRO series solutions are featured with most advanced technologies of Uniview to show excellent product performances. Applied with extra smart technology, PRO series products are capable of providing rich solutions for tough situations. Those products can show outstanding ability for enterprise and project applications. Users can have extreme superior experience by utilizing PRO series products.
Star Products – Hybrid NVR
One of Uniview's product highlights is the hybrid NVR series. Build-in encoder can process the captured pictures at the resolution up to 5MP. Users can choose the number of analog channels and IP channels at their disposal. The Hybrid NVRs also support long transmission distance up to 500m, which helped to save a lot of costs. It supports almost all types of camera in the market i.e. TVI, AHD, CVI, CVBS and IP camera. IP cameras which claimed for ONVIF conformance are able to connect to the device seamlessly. With the powerful SoC, the device can support up to 5MP video stream encoding and 2MP real-time video stream encoding which brings you the best surveillance experience than ever. What's more, the decoding ability of the device is also impressive which can decode video stream at the resolution up to 8MP.
Since its founding, Uniview has never given up on developing reliable products and innovative technologies. Our aim is to become a global leader in video surveillance industry who endeavors to build a safer world by providing professional, reliable and cutting-edge products and services.