Uniview, the world's leading manufacturer of innovative and high-quality video surveillance products, introduces the StarView+ Series, which reaches a new level of low-light performance. The StarView+ series applies a 1/1.8" Sony IMX385 sensor, which enables the camera to produce crisp, clear images in an extremely low light environment.
The new series includes multiple models, especially the 4X motorized bullet camera IPC262ER9-HDUZ, and the 4X motorized IK10 dome camera IPC3232ER3-HDUZ which are suitable to projects
Breakthrough Low Light Performance with Bigger Sensor
The sensor in the StarView+ series is highly sensitive to light. It is approximately twice the size of sensors in many existing products which use IMX185. The sensor's size of StarView+ camera is 1/1.8" while others' are 1/2.8". Since the size of each pixel is bigger, radically improving the camera's light gathering and sensing capabilities. Featuring a big iris lens, the StarView+ series motorized bullet camera and dome camera feature up to 0.0005 lux as minimum illumination and are suitable to monitor static scenes and moving objects in an extremely low light environment.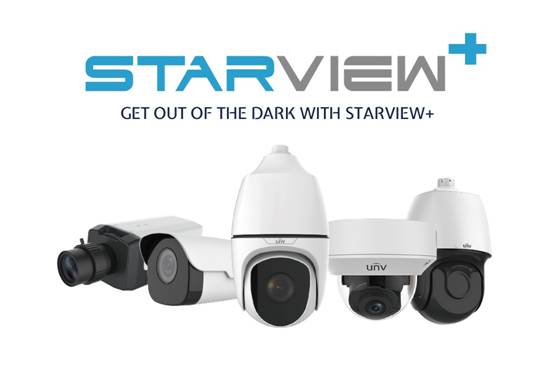 The 4X bullet camera IPC262ER9-HDUZ is built with 2.8-12mm motorized lens, and supports 100m IR range and 60fps high frame rate which is perfect for monitoring moving objects. The Starview+ Series 4X motorized IK10 dome camera IPC3232ER3-HDUZ also features 2.8-12mm vari-focal length, 60fps high frame rate and 30m IR range for general indoor or outdoor application.
StarView+ Series
StarView+ series has various models which cover all types of IP cameras. In addition to the 4X motorized bullet camera and IK10 dome camera, the series also includes the box camera, 22X motorized bullet camera, and 22X PTZ dome camera which feature 6.5-143mm optical zoom with 200m IR range and either fiber or PoE interfaces from which to choose.
38X PTZ Dome Camera - IPC6852SR-X38UG Features
· 1/1.8" 2MP High Sensitivity CMOS Sensor
· 38X optical zoom, 5.7~216.6 mm
· Optical Defog
· Snow Removal
· Fiber Interface for Longer and Safer Data Transmission
· 250m IR with IR Anti-Reflection Window to Increase the Infrared Transmittance
· Smart Functions Including: Auto tracking, Line Crossing, Intrusion, and More!
About Uniview
Uniview is the leading supplier of video surveillance products and solutions. With more than 13 years' experience in IP video surveillance, Uniview now is the 6th largest manufacturer worldwide (IHS Markit).