Uniview, the world's leading video surveillance manufacturer, is presenting the whole product lines at Security China 2018 in Beijing, including IP cameras which features high resolution and great performance in extremely low light environment, NVR and Kit, switch, professional storage devices, as well as solutions for different markets, for example, retail, building, campus and project etc.
StarView+ Series
One of the most highlighted product series Uniview is presenting is the StarView+ Series. It reaches a new level of low-light performance. The StarView+ series applies a 1/1.8" Sony IMX385 sensor, which enables the camera to produce crisp, clear images in an extremely low light environment. The sensor in the StarView+ series is highly sensitive to light. It is approximately twice the size of sensors in many existing products which use IMX185. Featuring a big iris lens, the StarView+ series motorized bullet camera and dome camera feature up to 0.0005 lux as minimum illumination and are suitable to monitor static scenes and moving objects in an extremely low light environment.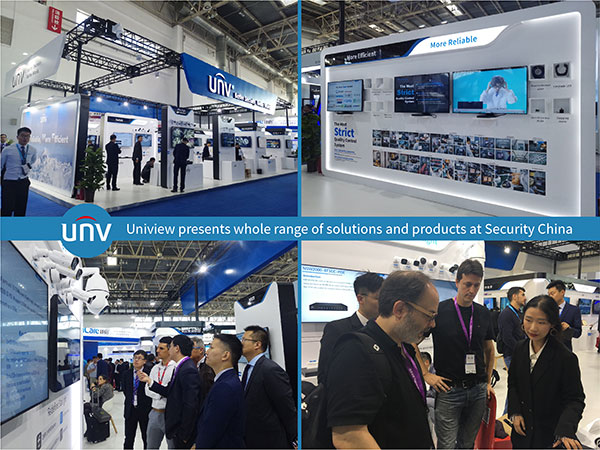 More Reliable, More Efficient
Uniview insists on improving the quality of products, brings customers a reliable and secured life. High quality has been always regarded as the basic principle during product design, manufacturing and testing. Uniview uses high quality components to guarantee product quality, for instance, 2mm thickness PCBA to avoid defocus by deformation, maglev fan to reduce noise and increase life span, stepping motor applied on Easy PTZ Dome Camera has no noise and jerky even at 300°/s. Customers can closely experience Uniview excellent quality at Security China.
With Ultra 265 deep compression technology as a cornerstone, Uniview launched a series of useful technologies such as changeable fps, self-adaptable transmission technology etc., Together with various smart technologies and open platform, Uniview creates a more efficient and convenient video surveillance system.
Uniview insists on providing an open and standard service for users. Recently, Uniview was one of the first to pass through ONVIF Profile T tests. Profile T supports advanced video streaming video streaming features such as the use of H.264 and H.265 encoding formats, imaging settings, and alarm events. It extends the capabilities of ONVIF video profiles for systems integrators and end users.
In the future, Uniview will continue to bring high quality and user-friendly products to global customers.