November 16th, 2018 - Uniview, the global pioneer and leader of IP video surveillance, is pleased to announce that the Uniview Korea branch office is opening. The office, located at 1203, Kolon Digital Tower Millart II, 31 Digital-ro 30-gil, Guro-gu, Seoul, Korea, represents the company's strong commitment to the Korea market and speaks to its rapid growth in Korea.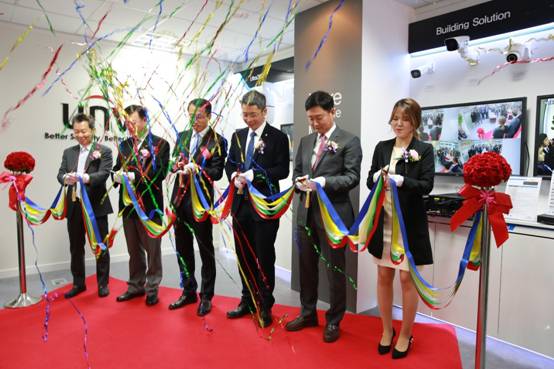 Firstly introduced IP video surveillance to China, Uniview now is the third largest player in video surveillance in China. In 2017, Uniview has the 6th largest global market share. Uniview has complete IP video surveillance product lines including IP camera, transmission devices, NVR/Hybrid NVR, storage, VMS/app and Display products, covering a diverse vertical markets including retail, building, industry, education, commercial, city surveillance etc.
Our aim is to become a global leader in the video surveillance industry which endeavors to build a safer world by providing professional, reliable and cutting-edge products and services. Aiming to excellence.
"After the establishment of Uniview Korea Office, we can support more detailed things to our customers." Said Ximen Yan, Vice President of Uniview and President of International Business Department. "We are not only bringing the latest products to Korean customers, but we are also offering a better choice to plan the future together. Please trust us, you will be the winner with Uniview."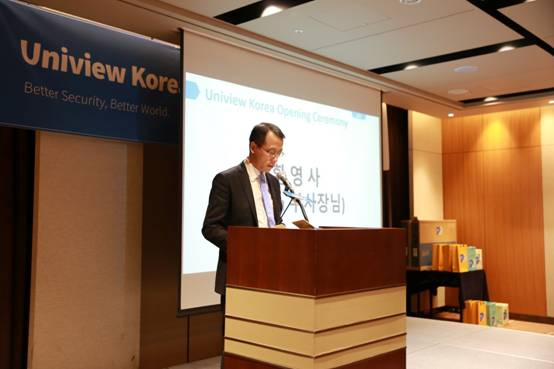 The opening of Uniview Korea office is the culmination of several years of resounding success, with year on year figures consistently reaching over 100% growth. With this extensive growth, the need for the opening of office has become more and more significant.
As the company grows in Korea, we are proud to provide the localized service our customers need. Uniview is planning to do something big in extending the Korean market after we opened the Korea office. The most important thing is that we are more pleasured to gather together with more partners who are willing to get stronger with Uniview. We appreciate the continued support from our customers over the years. The expansion aims to further strengthen those relationships, providing more efficient local sales and support for them. More marketing investment will be put forward, in aim to extend the brand influence rapidly. Human resources including sale, pre-sale, after-sale team will be bigger and bigger to meet the market's demands and customers' requirements. We are looking forward to a bright future ahead.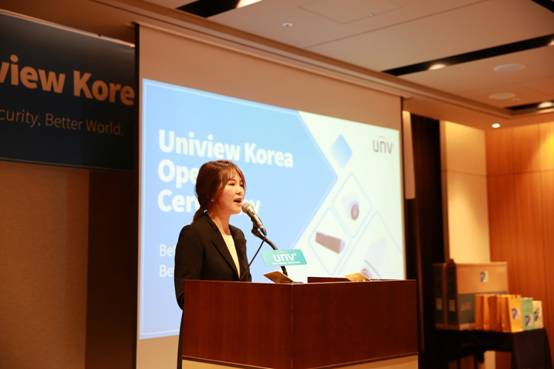 What determines an enterprise's vitality? What is the competitiveness of Uniview?
Uniview thinks it has to be innovation ability. And Uniview has planted innovation spirit deep into its soul. Uniview has long been the leader and pioneer of advanced technology in public security infrastructure industry. The successful cases we have made in social security, smart city, intelligent traffic system witnessed furthermore enhanced our leading place.
Uniview always think ahead. To create a product that's tough enough to conquer every unfavourable environment, sensible enough to adapt to complicated light and network conditions, we pioneered innovative technologies in products research and development.
Uniview would continue to insist on high quality and innovation, trying to provide the best price and good user experience for our customers. We would always put our partners' benefit in the first place. We do have the strong confidence that Uniview will be fully recognized by global valued customers as the manufacturer of advanced and applicable solutions.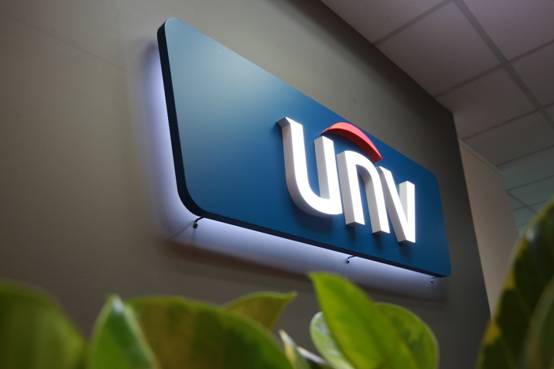 #About Uniview#
Uniview is the leading supplier of video surveillance products and solutions. With more than 10 years experiences in IP video surveillance, Uniview now is the 6th largest manufacturer worldwide and No.3 in China(IHS Markit). Uniview delivered products and solutions to more than 145 countries and regions.
In the future, Uniview will insist on providing high quality products and professional services. We will continue using our best endeavors to protect customers' benefits and provide better quality products and services.
For more information, please visit Uniview's website at www.uniview.com.
Facebook: @UniviewHQ
Twitter: @UniviewTech
Youtube: Uniview